TWO seater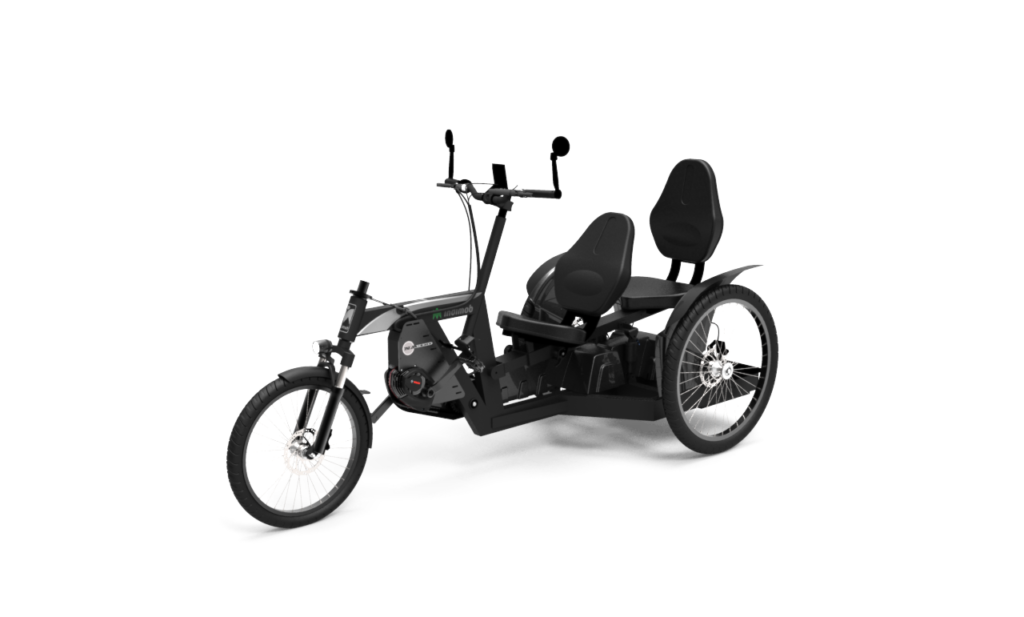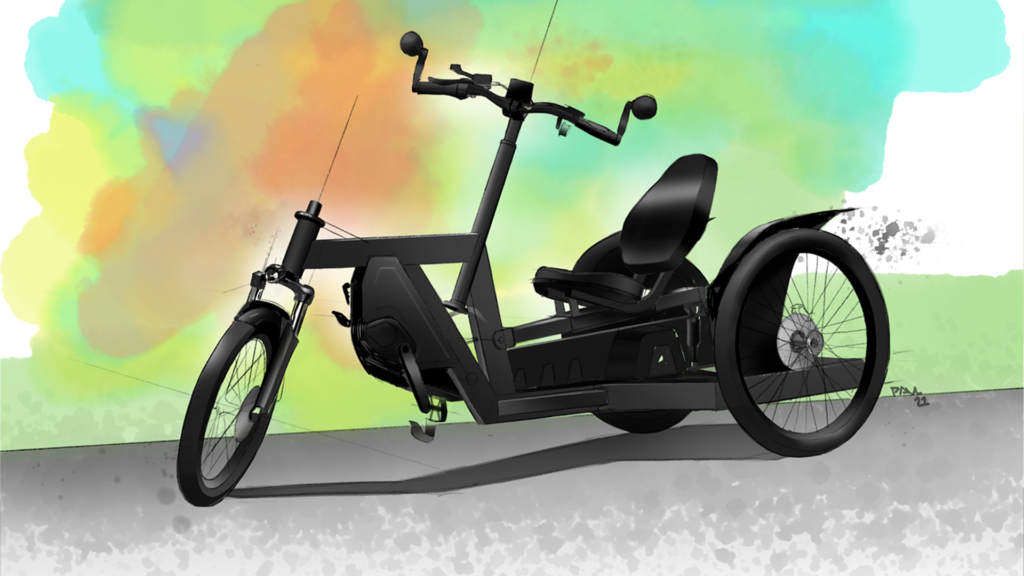 Designing a new kind of vehicle is a challenge: a desire for simple construction, harmonious proportions, lightness, and easy ergonomics on the one hand might conflict with cost effectiveness, reliable technology, practicality, and that impalpable need for individuality.
Three wheels: that's the solution we have chosen to attain balance, lightness, and simplicity of construction. Previous templates wouldn't provide these requirements: that's why we came up with something totally new which embraced aerodynamic efficiency.
The high specification of the frame that's required to carry 2 adults with cargo made us choose aluminium, while carbon fibre was the solution chosen for the monocoque. A remarkable technical achievement made possible only by consulting with best specialists in the field.
The Indimob styling uses strong and bold lines that create a slender form and the sportscar stylistic repertoire creates a pleasing but resolute look.
The outside view of the pedals was considered an opportunity to display the Indimob aesthetics: two little windows were added to show this unique feature, not to mention, of course, the enhanced visibility.
Indimob is a new urban species and it's ready to convince people who have never considered a bicycle as a true vehicle, but also people who are expecting more from a bicycle, much more.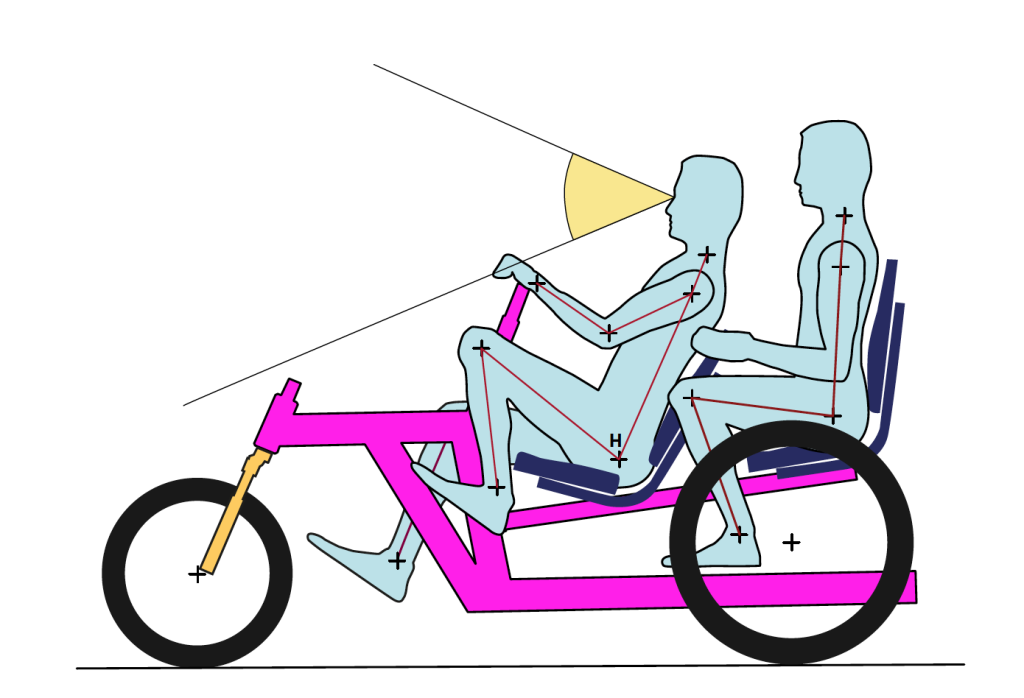 Indimob's driving position combines comfort, accessibility and pedalling efficiency.
The H point position, not unlike that in a car, distributes the weight
evenly and, together with the ergonomic design of the seats, results in a very smooth ride. Steering is very easy and natural due to a position that doesn't tire arms and
shoulders.
Passenger accessibility is guaranteed by the front folding seat and its space can be regulated by sliding the front seat forwards or backwards.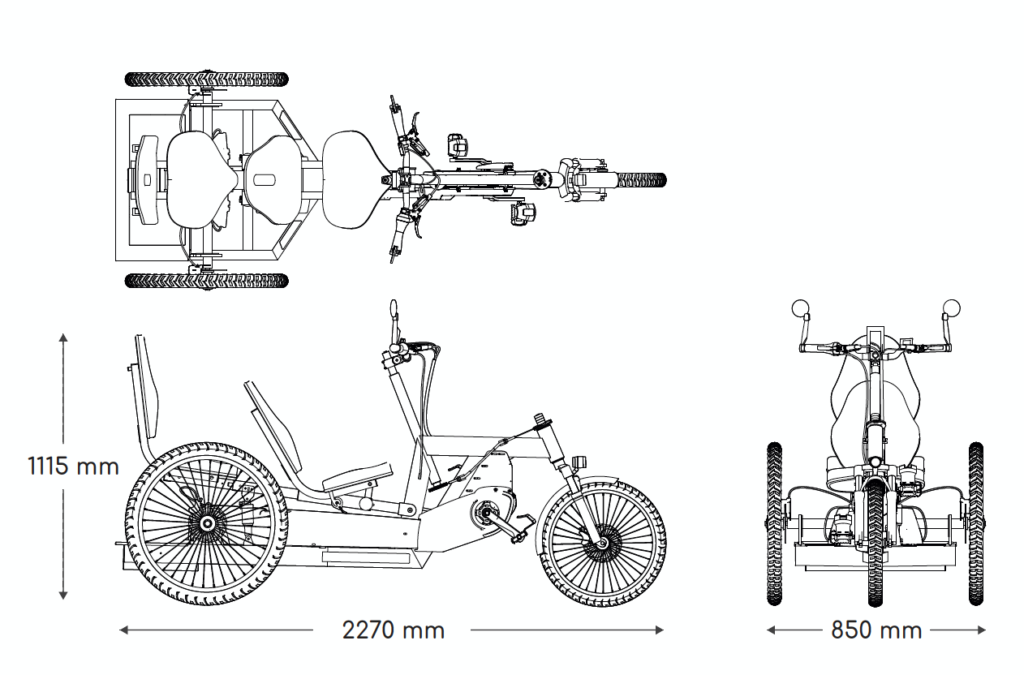 | | |
| --- | --- |
| Motor | Bosch Cargo Line 250w/25Km/h 85Nm |
| Autonomy* | 40-140Km |
| Weight | 75kg ( base version ) |
| Frame | Aluminum |
| Wheels | 1×20"front; 2×26" rear |
| Gearbox | Enviolo HD |
| Brakes | 4 piston calipers + handbrake |
| Rotors | 2,3x180mm |
| Battery | 625w (1 or 2x) |
| Headlamp | 7,5w; 150lux Led |
| Taillamp | 2,3w; 7,5 Cd; 52 Led |
| Suspensions | Suspension fork + 2x adjustable air dumpers (Seat) |
| Controller/ display | 4 assistance levels; walk assistance |
The Indimob range is equipped with heavy duty components such as special rims and tyres suitable for supporting two adults plus cargo. A wide range of accessories are available to enhance the user experience. You can buy them in the shop section of our website, and you can order them any time, according to your changing needs or simply to improve your vehicle
*estimate based on the two borderline cases: heaviest load, highest motor assistance, single battery and lightest load, lightest motor assistance and double battery
Indimob's frame, brakes, stability and steering mechanisms have just been tested by TÜV SUD, meeting all regulations required by the Machinery Directive, moreover all the line up is compliant with the current E-Bike legislation all over Europe so it has complete access to bike lanes and limited traffic zones.